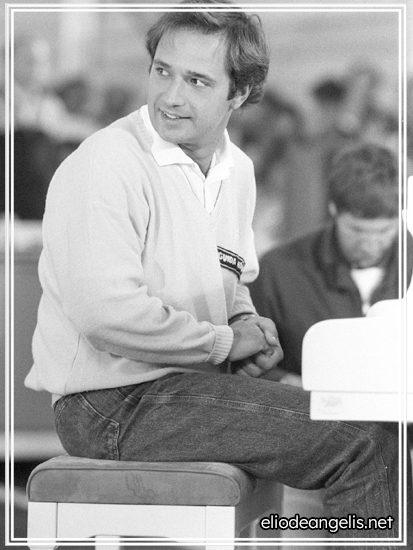 I was so little when Elio de Angelis passed away and at that time I couldn't understand what a huge loss Formula 1 and the world had… I wish I could had the opportunity to enjoy that early years better, but being only a 5 years old in 1986 I don't think that would be possible… I watched the races occasionally and only knew one driver: Nelson Piquet, because our journalists were always talking about him.
Years passed, I became seriously interested in motorsport at 10 years old and I started to support drivers who had connections with Elio in the past, then while doing researches about their careers I was "introduced" to him… I was enchanted by his personality, a great driver and a gentleman outside track – a rare jewel… I truly believe he could be a F1 world champion if his career hadn't be cut abruptly. Visiting forums and sites on internet, when I read something about de Angelis I always saw the same question: Why isn't he remembered more? In fact unfortunately he isn't remembered enough, maybe because he wasn't a world champion? Who knows… He wasn't a world champion (and I think that's only because destiny didn't allow him to continue his career), but was a very technical, fast, talented and brave driver and for sure deserves to be more remembered and introduced to the new generation of motorsport fans. I love to create websites and wanted to pay him a small tribute, so this website was born.
I named it Unfinished Symphony inspired by the article with the same name written by Mark Hughes back in 1997. Elio had so much to live and to conquer, he was so young, his life was cut so abruptly in a terrible way leaving so many projects and dreams behind unfinished… He was also a music lover and a very talented pianist, so I thought Unfinished Symphony could be a proper name to my tribute.
I know dealing with a loved one's death is a very delicate issue. I lost two of the most important people of my life and know how delicate is to approach the subject… Because of this I would like to say that I won't mention Elio's death much here, only the necessary for historical purposes… I don't like to see the footage of his accident, I don't like to read about his death, it hurts a lot… Even if more than 35 years passed already, even if I "met" him only so many years later… So, I'll keep this subject in a minimum space here and I hope you can understand my decision.
I don't want this to be a sad place… I want to bring a smile in the face of all those who loved and admired Elio and that they can have one more place to visit for remember him on the world wide web. Here Elio's life and career will be celebrated and remembered with all respect possible. I want to make people remember him more by his life than by his accident…
About the content published in this website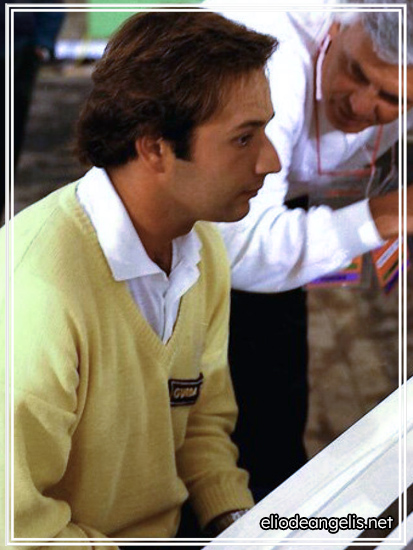 All content published here are copyrighted and property of their respective owners. I'm doing my best to credit the contents I'm posting here, but if you find something copyrighted to you that is not properly credited, please let me know for I properly credit it.
I'll publish here photos, articles/interviews, reports, etc I have in my personal collection. Many video cuts you'll find here came from my video archive collection and will always have the url eliodeangelis.net on them. Videos that are not from my collection will be embed directly from their respective channels for keep all the credits.
Still about the videos… You'll see that I'll post a lot of them here, I decided to post due to a personal experience… In 2019 I lost my father after a long battle against cancer and that hurt me so much… Due to life circumstances we lived in different states and because of that and his work (he worked in the cruises business and was very well known in that environment) I couldn't see him much and so I didn't have many memorabilia from him… On the day of his funeral I found on internet a video interview with him (he was very discret and didn't like to mention about interviews). The interview was from a time he wasn't ill and he was happy, smiling and talking about his work, that was his passion. I was very very happy for watch this video and the same happiness I had I want to bring here to all those who like Elio. Photos are beautiful and great, I love them, but watch your loved one alive, hear his voice once more… This is priceless and I hope I really can bring some joy to you all with the video collection I'm posting here.
This website is an unofficial tribute and is not affiliated with the Elio de Angelis' family or Elio de Angelis legal representatives in any way. I also would like to say that this website doesn't have financial purposes, too. My only purpose here is remember Elio and his career and all costs are covered by myself only. There are no commercial advertisements on this website and I do not intend to cause financial loss to anybody.
I reserve the right to not be responsible for the topicality, correctness, completeness or quality of the information provided here. Liability claims regarding damage caused by the use of any information provided, including any kind of information which is incomplete or incorrect, will therefore be rejected. I am not responsible for any contents linked or referred to from eliodeangelis.net. If any damage occurs by the use of the information presented there, only the author of the respective pages might be liable, not the one who has linked to these pages. Furthermore I am not liable for any postings or messages published by users on our social media channels (@eliodeangelisf1) and/or on our website.
If you find any errors here, please let me know so I can correct them. My apologies for gramatical errors, English and Italian are not my primary languages.
I would like to thank the following Photographers for giving me permission to use their pictures on my Website (click on the names for visit their websites):
Dale Kistemaker • Angelo Giordani • Henk Graalman • Nick Stewart • Gilles Diotte • Philip Kozloff • Johan van Elk • Frederick Roll • Roger Colbeck • S. Le Bozec • Eric Vallet • Marcelo Silva • Carlo Peruch • Michel Bergeron • Sandro Lorenzut • Anthony Fosh •
Many thanks also to Elio's very good friend Andrea Gallignani for kindly authorize me to publish here the 1986 handwritten interview that you can find in our blog.
A big thank you to Steve Chase, webmaster of eliodeangelis.info (a great website online since 1998!) for his kind and encouraging words about my work with this website and also for give me opportunity to promote it on his Facebook Group about Elio.
My sincere thank you also to Fabiana de Angelis, Elio's sister, for her kind words about my website. It's wonderful to know that family and friends of Elio are enjoying my small, but sincere tribute to him… It's a huge honor to do this tribute!
I want to dedicate this site in memory to two loves of my life: my grandmother Lidia (on mother's side) and my father Mario. Without their love and support nothing would be possible… I miss them so much and dealing with their passing is guiding me in the creation of this website, on how to work and create content for it with all sensitivity and respect possible.
I also would like to thank and dedicate this site in memory of Elaine Gaspareto, another gentle soul who left us too early… If I know something on how to build and manage a site, it is also thanks to her kindness and generosity in sharing knowledge. Rest in peace, dear…
If I get more contributions and authorizations, I'll list them here too. If you want to contribute with this site sending articles and photos you have, please send me a message, I'll be more than happy to publish them on this website with the proper credits.
I hope this can be a decent tribute to Elio and that family, friends and fans can visit it and remember his life and career in a enjoyable way. As I said, I'll do everything with all the respect possible. Keep visiting us for updates, when I get something new for my collection, I'll be sharing here with you all.
Thank you so much for your visit and support, it means a lot!