Translated by
this website
On May 15, 1986, Elio De Angelis, a great promise of Italian motoring, died. The memory of his brother Roberto in this exclusive interview
Elio De Angelis. I don't think he was one of us. A normal person, I mean. Elio De Angelis represented, and represents even more today, an exception. A wonderful exception in a world where he had absolutely nothing to do with it. Even then too sinisterly gloomy, evil, dominated by selfishness and arrogance. From prevarications and greed. Today the discomfort of being part of it is, if possible, even more felt, even more acute. I really feel closer to Elio De Angelis. Even though I have a clear awareness of not being able to even come close to him in terms of moral rectitude, transparency of the soul, integrity.
I distinctly and unequivocally felt the human qualities of Elio De Angelis in recent days, in which I had the privilege of chatting with his brother, Roberto De Angelis. Same speech, equal in principles, clear in values. We talked about Elio and his time. Not without emotion, on my part. Because I miss Elio, we miss him. Above all, this world lacks those like him.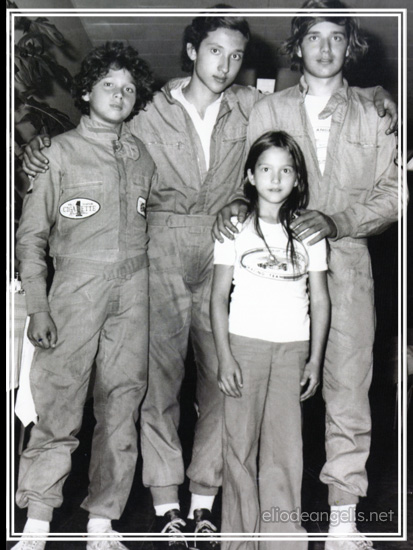 Let's start from the beginning. Elio De Angelis was born in '58. How was Elio as a child?
Elio has always been passionate about cars since he was little, a passion transmitted somewhat by our father, who was a powerboat champion. Powerboat champion because my grandfather didn't allow him to race in the car due to dangerous reasons. Although he has proven to be stronger on the water, he has won several world championships and several European championships on circuit boats, on the famous three points. My father passed this passion for motors through the family, especially to my brother Elio, even before his other brothers. Because then we also raced, both me and my younger brother Andrea, all three of us raced in go karts, at the time of the Azzurra patrol, where there were Patrese, Eddie Cheever, Beppe Gabbiani, Piero Necchi, De Cesaris, the two Fabi brothers. It was the premonitory period of the famous 14 Italian drivers at the same time in Formula 1. A fact that was never repeated.
In those years, go-karting was a considerable hotbed of drivers. When Elio stopped racing in Karts, my father provided him with a Formula 3 car and he began racing in it with the Chevron B38, winning the Italian championship, while also taking part in races in the European championship, which was won by Jan Lammers that year, while the previous year it was won by Patrese. Elio won the Italian championship in a daring way, it was incredible, I have never seen a race like it! In Magione, he started in the last match of the Italian championship and was competing with Ghinzani. To win the championship, Elio had to stay ahead of Ghinzani. He won the first heat, but in the second heat he broke the gearbox, and did not qualify for the final. He entered the final, starting last, only because the last person eligible, a certain Nicolini, out of altruism, since he knew that, if Elio had not participated, he would have mathematically lost the Italian championship. Driver Nicolini was kind enough to remove his car from the last position on the grid and instead have Elio start last, who was the first car off the grid. He therefore left last. And, in Magione, which was a small, narrow circuit, it was almost a 2 and a half km go-kart circuit, something like that, Elio, despite starting last, arrived sensationally first, overtaking, with 2 laps to go, just Ghinzani!
With whom I understand that they were still on good terms…
Excellent terms! Ghinzani has always been a very nice person, an excellent driver, who unfortunately has almost never had a car as good as him, like many other drivers. Another very strong driver was, and is, Beppe Gabbiani, who was a very good friend of Elio, and mine too, because we raced together in the karting days. And in fact, in Formula 3 he has proven to be strong. In Formula 3, where you have similar cars, it depends on the driver's ability to set it up well. And there it was clear who the strongest were: there was Beppe who was very strong, there was my brother, at international level there was Nelson Piquet, Keke Rosberg, there was Alain Prost. They were the ones who, in the minor formula, Formula 3, showed everyone how to drive the car.
But why, at a certain point, Roberto De Angelis and Andrea De Angelis didn't continue and Elio did?
Because my father made a speech in the family, when my brother turned eighteen, that only one person should ride in the car. We just had to agree on who would be. My brother Andrea, 3 years younger, was too young, so the issue could have been between me and my brother Elio. But I certainly recognized a greater passion in him, racing was his life, since he was little his goal had always been to race cars, to become a Formula 1 driver. He drew cars every day when he was at school. Instead of listening to the professor's lectures. He drew Formula 1 cars, Sports cars… The bedroom wall was full of drawings, clippings from racing car magazines, his was an authentic passion, it has always been his reason for living.
I recognized both his greater passion and his greater talent and therefore said that I would end my career there. "I will pursue a career as an entrepreneur," I said. So, we left Elio his passion, his great, uncontainable passion for racing cars. In Formula 3 he therefore won the Italian championship and moved to Minardi, which managed the Everest team with a Ferrari engine. Giancarlo wanted him in the team, so much so that he had him race in Formula 2 at Misano already in 1977, when Elio was still racing in Formula 3.
Elio's first Formula 2 race took place with the third fastest time in practice and, at the start, after two corners he was already first, at Misano, where he led 22 out of 30 laps. Then he had an engine failure, the tires no longer assisted him, and he finished eighth. It continued the following year with Team Everest Minardi with the Ferrari engine, but it was a car that was not competitive, except at Misano, a somewhat particular circuit, because it had a long straight where the 6-cylinder Ferrari engine could have something more compared to BMWs. On the other circuits, where there weren't these straights, the car wasn't really keeping up with the others. The Ferrari engine was an old 6-cylinder engine that was created, among other things, for the Sports and was not too suitable for an open-wheel car, it was an old-concept engine, too heavy. This is why neither Elio nor Brancatelli, with him on the team that year, were able to do well. They only managed to qualify between eighth, tenth, twelfth place. In the meantime, however, Elio had already established good relations with the Commendatore Ferrari, since, going to test the Formula 2 at Fiorano, he had the opportunity to meet the Commendatore, who, seeing him lap on his track, naturally noticed my brother's talent.
This was how he made him test the Ferrari 312 T3, tests at which I was present, among other things. My brother immediately showed who he was. The first time he sat in a Formula 1 he set a time very close to Villeneuve's record, despite having a car which was the forklift, a spare car that the Scuderia Ferrari involved in the Formula 1 world championship had left in Fiorano. Because, in the meantime, the team itself, with Reutemann, was already in America, where, in a few days, the Long Beach Grand Prix would take place. There was alarm because Villeneuve suffered from the famous mumps. In fact, my brother Elio was about to leave to replace Villeneuve himself! He didn't start because, at the last moment, Villeneuve made himself available and he went, as a starter, to compete in the USA-West Grand Prix.
Then fate wanted Elio De Angelis not to join the Ferrari team because the Commendatore made him a contract offer that my brother did not accept. Ferrari expected him to do at least the first half of the following season with Surtees, which was a team friendly to Ferrari, as John Surtees had, as is known, been a Ferrari driver at the time. But Surtees was a really second-rate team, and my brother didn't want to leave with a car to make a bad impression. So, he decided not to accept this type of agreement.
Previously there had been a clarification with Enzo Ferrari because my brother, during the Formula 2 season, told the Commendatore that the car wasn't working, the engine wasn't working, the engine was too heavy, the car wasn't balanced and he told him that he would have agreed to continue having such a mediocre season, without any hope of achieving any good results, provided that he could have some reassurance or some prospect of being able to race, perhaps with the third car, the following year in the Scuderia Ferrari in Formula 1. The Commendatore, like the old fox that he was, a person with a character that we all know, told him: "De Angelis, I can't promise you anything about it. You can make his choices too!" My brother, at that point, did perhaps 1-2 more races with that car, after which he clarified things with the Minardi team, thus deciding to abandon the Faenza home and try to settle in a team where he could highlight his talents. However, he said goodbye on excellent terms with Giancarlo.
In that same year, Elio won the Formula 3 Monte Carlo Grand Prix, which at the time was a formidable showcase for showing off in front of the Formula 1 teams. Already the previous year my brother raced in Monte Carlo for the first time, finishing second behind Pironi. He came second only because he broke the gearbox, broke first gear, so, as the lowest gear, he only had second gear. Despite this, Elio was even catching Pironi, he was taking a second from him per lap, but at a certain point, he was no longer able to catch him. The following year, however, with an old single seater from the previous year, he raced and won the Formula 3 Monte Carlo Grand Prix and was noticed by the Formula 1 Circus, which followed very carefully, in those years, that race in Principality.
This is how Elio was called by Ken Tyrrell. He went to London and signed a contract to race for Tyrrell in Formula 1 the following year. After that, for no one knows why, Ken Tyrrell thought about it again and found an excuse, a pretext to terminate the contract, claiming that my brother didn't have a super license for Formula 1, which wasn't true. Since in England it is not like in Italy, where nationalities are not considered, the judges agreed with Ken Tyrrell, forcing Elio to even pay a penalty.
Did this meeting with Tyrrell happen before telling Ferrari his refusal to race with Surtees or after?
After.
After Tyrrell's no, was Elio still hoping to find a competitive car?
Since Elio was confident in his abilities, he didn't want to start his Formula 1 career with a car that would put him in a bad light. I'm not saying that one should expect to win the world championship in the first year, but neither should one accept starting with a car that took 4 seconds per lap.
He looked for a mid-field car because he had to gain experience. So, Elio signed a contract with Shadow. Naturally as a paying driver, because back then you didn't enter Formula 1 because you were cute, you were handsome. Even at the time, few entered without sponsors. There were those who had sponsors, like the French, because Elf intervened, there was support from the State. Unfortunately, Elio had no one behind him except the help of his father. Who initially helped him to run half of the Grand Prix scheduled for the 1979 season. After that he was no longer forced to pay and therefore finished the Formula 1 championship without having to pay any more money. In the end he freed himself from the commitment to Shadow, with whom I believe he had signed a multi-year contract. He made an agreement with the owner, Don Nichols, paying a penalty to be free.
How did Elio De Angelis feel, a boy of just 21 years old, already in the top world car championship?
Well, then he was one of the youngest drivers ever to debut in Formula 1. There was the enthusiasm of competing in the first, entire Formula 1 championship, albeit with a car that was, unfortunately, taking 3 seconds per lap. Nonetheless, in the last race of the championship he achieved a sensational fourth place under the universal downpour at Watkins Glen.
He stood out a lot. Elio De Angelis, in that 1979, despite a non-competitive Shadow…
Certainly! Because in any case with a truly last row car he always managed to achieve decent placings, in relation to the potential of that car.
Were the relations good with Don Nichols?
Excellent!
Even with Jan Lammers, despite the fact that Elio was punctually in front of him?
Yes, but in any case, relations with the Dutch driver were good. Although, at a certain point, it was clear that he was a little envious of Elio's results. Of course, from a human point of view it was understandable that he was, also because he was the one who brought the main sponsor of the team that year. The Shadow had a decent budget, brought by Jan Lammers' sponsor, but it was still Elio who always finished ahead of him.
Jan Lammers was the one who had the flashiest car, the one completely colored by the tobacconist sponsor. But Elio's all-black one, without any writing other than the number 18, often, or rather practically always, arrived ahead of the Dutchman's…
It is true. Jan Lammers failed to qualify three times that year. Elio only one.
Next came the call from Colin Chapman. Don Nichols did not want to understand that it was an important call for Elio De Angelis and wanted the penalty for the termination of the contract with Shadow to be paid in full, without discounts.
Well yes. My brother had signed a multi-year agreement with Shadow, I don't remember if for two or three years and therefore, to free himself from that commitment, he made an agreement with Don Nichols to terminate it. He paid the penalty due to Don Nichols with the first year and a half of his salary received from Lotus. Subsequently, earning money with the Lotus job, Elio arranged to repay all the loans given to him by my father at the time. At the beginning of 1984, my father was reimbursed for everything he had lent to Elio.
This desire of his highlights once again the personality and correctness of a champion who was also an example as a man. A person, as I wrote at the beginning, of those who were already in short supply then, but today almost no longer exist. I am sure that if we were a little more equal to Elio De Angelis, the world could really have a rosy outlook, made of smiles, altruism, unity.
In short, the great Colin Chapman recognized the talent of the driver, but above all the integrity of the person. And he hired him in his very prestigious Formula 1 Team Lotus.
Elio De Angelis. It is the thirty-fourth anniversary of his return. Yes, since his return to where he came from. A place, a world, in the sky, dominated by angels. Elio was, is one of them. Elio Degli Angeli, precisely. A world where you can race and win in a car the way he does. A world where speed is style, it is beauty, it is purity. Where curves are drawn, painted with multicolored trajectories, where the sounds of the engines are sweet melodies, where every gear shift is a caress.
You could see, you could feel, that Elio was from another world. There were clues, irrefutable evidence: his attitude, his smile, his Martian helmet. Here, in fact: his Martian helmet. Yes, Elio De Angelis is too great, too superior a person to be champion of this world. He could not. Simply because it is a world to which he did not belong…
At the end of 1979, Elio agreed with Don Nichols, owner of Shadow, to pay a fine for the termination of the contract with that team…
Yes. At that point Elio De Angelis was free. Colin Chapman called him for tests at Paul Ricard, where, at the time, most of the teams held their winter tests. The tests were free, and Paul Ricard was the venue of choice for the winter tests, Montmelò in Barcelona did not yet exist. Colin Chapman also called, with Elio, Nigel Mansell, Eddie Cheever and Jan Lammers, who was Elio's teammate at Shadow in '79.
Elio was immediately, clearly, the fastest. In the old Lotus, which had left Carlos Reutemann, who joined Williams, he set a great time already on the first day, giving a second and a half to the second fastest, Jan Lammers. Nigel Mansell, poor guy, wasn't at all comfortable at first. He was a boy who my brother helped a lot in the beginning. Then he demonstrated that he had learned well. He matured years later. At the beginning it was a disaster, he was gaining 2-3 seconds a lap with the same car. I remember my brother Elio telling me: "I want to help this boy." My brother was generous, a truly generous, good boy, he showed Nigel the lines, how he should do them, suggested the gear changes, told him where to downshift, where to shift up and lots of other information, just to help his colleague. That occasion, that test at Paul Ricard, was used to decide who would be Andretti's second driver in 1980.
Elio won the match by a landslide and Colin Chapman, the very famous Ferrari of England, took the very fast and promising Italian driver under his wing…
So, then Elio made his debut with the Lotus 81, which however was a car that was the expression of a Lotus in decline. Already the previous year, with the Lotus 80, the very complicated all-wing single seater that never worked, the sensational technical crisis of Lotus had begun, with Carlos Reutemann and Mario Andretti, forced to fall back on a development of the glorious Lotus 79.
Even with the Lotus 81, a not excellent single seater, at the 1980 Brazilian Grand Prix Elio managed to obtain a second place. Incredible for that car, so much so that neither he nor Andretti were able to repeat performances of that level for the rest of the season. That Lotus turned out to be a mid-field car. Elio managed to arrive fourth, fifth, sixth, picking up points left and right.
How was his relationship with Colin Chapman?
Stupendous! He was a second father; he had really become a second father. Oh yes, because when Colin Chapman saw Elio arrive second, since he was anything but stupid and had retained the ability to see who knew how to drive the car from those who didn't know how to drive it, he understood Elio's value. He realized that to get second place in Brazil with that car, you had to have some numbers and so he immediately took him under his wing and respected him a lot. Elio felt very supported by his English patron, and this was how a beautiful relationship was created between them. Relationship of trust and mutual respect. Unfortunately, the passing of Colin Chapman was one of the elements that led to the outcome of Elio's career not living up to his expectations and his possibilities. Especially because, when Chapman passed away, Team Lotus fell completely into the hands of Peter Warr, who was a completely different character to Colin Chapman. Classic very cold Englishman, extremely calculating, who, among other things, hated Italians. There was a very unpleasant episode in which he made it clear to Elio De Angelis that he didn't like Italians at all, on the contrary!
Was a person of correctness and transparency like Elio, being Italian, also included in this very negative consideration on Warr's part?
Yes, I'll tell you why briefly in this episode. A dear friend of Elio, Luis Ruzzi, an Argentinian, who, among other things, from a certain year onwards, began to follow him to all the Grands Prix, was once treated very badly by Peter Warr, in the paddock and in the pits. Luis went to tell Elio: "Look, Peter Warr said this, this and that, he was very rude." Then Elio went to clarify the issue with the English manager.
Peter Warr said that he hated Luis because in Argentina a dear friend of his, who participated in the Malvinas war, lost a leg, due to the Argentines. Elio, amazed, said that his behavior was not very rational. But Peter Warr replied: "I also hate Italians too, so you too, because a lot of English people died in the Second World War, because of the Italians." This was an unpleasant episode. Peter Warr was a cold, very calculating man.
When Senna arrived, Peter Warr was now in complete command of Team Lotus. Chapman's son was too young, and his wife had never been interested in racing. All the responsibilities were entrusted to Peter Warr, who, upon Senna's arrival, made a fundamental choice right from the start. He decidedly placed his bets on Senna, who had already demonstrated his worth the year before, with Toleman and was one of the rising stars of Formula One. Peter Warr made an investment, a commercial economic calculation. But in a subtle way, this was unpleasant! My brother, in fact, had signed a first-driver contract and Senna a second-driver contract for the 1985 season within Team Lotus. However, Elio was never treated as a first driver but was always treated as a second driver. All the attention, means and care were aimed mainly at Senna.
Nonetheless, my brother Elio De Angelis, in his fourth Grand Prix of 1985, was in first place in the drivers' championship. Despite this evidence, Team Lotus and Peter Warr continued to privilege Senna.
Also, because Senna brought a lot of money to the English team with Banco do Brasil. Senna signed a three-year contract, very advantageous from an economic point of view for the team, because, at the time, young drivers naturally paid to enter Formula 1. Or, at most, they took little money, while my brother was already a top driver, so he was already earning good money for that period. In terms of salary, he was at the same level as Lauda, Prost, Piquet, Rosberg, etc.
Team Lotus made this calculation, that is, they chose to favor Senna, on the understanding that he was a great driver and he proved it later, but my brother Elio certainly would not have been less successful if they had given him the same means. Indeed, in some ways, he was certainly more concrete during the race.
Ayrton Senna's career was determined by this basic choice, which was very favorable to him, but detrimental to my brother Elio De Angelis. That, at a certain point he felt betrayed by Team Lotus. Also, because it was my brother Elio De Angelis, a couple of years earlier, who made a decisive contribution to bringing Lotus back into vogue, after three or four negative seasons, in which they offered cars on the track that didn't work at all…
There was the arrival of Gerard Ducarouge…
It was my brother who was the decisive protagonist for Ducarouge's hiring in 1983. Elio, in fact, went to France to talk to Ducarouge and it was he who convinced him to join Lotus, a prestigious and historic company, which needed someone like him to recover. My brother Elio even gave up part of his salary to give what was missing to close the contract with Ducarouge and which Lotus did not want to give. But Elio knew that he really needed an engineer of the Frenchman's competence and experience to conceive a finally competitive machine. In fact, already in 2-3 weeks he made the Lotus of that moment a car that was already much better than the ones before. So much so that my brother even took pole position at Brands Hatch, in the 1983 European Grand Prix. It was a huge step forward compared to previous Grands Prix, where Elio only qualified seventh, eighth or tenth.
This moment of resurrection was really needed because Elio De Angelis, already with the Lotus 88, the one with the double chassis, had already really gone through the worst moments of the English team, which already came from the failure of the Lotus 80 in 1979. Instead, even the Lotus 88, the ingenious double-chassis single-seater, which was supposed to be Lotus' total weapon, went as it went…
My brother Elio was happy that the Lotus 88 had been disqualified, because he had tried it for a long time and said that it didn't work, it was a good idea on paper, but in practice not always ideas that are good in theory turn out to be so good, concrete. The car really didn't run.
Despite this bad situation, rumors of Renault's interest and talks with Alfa Romeo were circulating about Elio. However, Elio remained faithful to Lotus…
There was more than one meeting with Alfa Romeo, before Andrea De Cesaris went there. Then De Cesaris was chosen because Andrea had a connection with Marlboro. His father was a Marlboro wholesaler, so there were relationships between them that went beyond the sporting aspect. The cigarette company was, as is known, also a sponsor of Alfa Romeo, as well as McLaren. The fact is that my brother remained at Lotus. There were contacts with Alfa Romeo even before going to Lotus. In that period, during the very first steps of Elio's career, especially in the first two or three years of Formula 1, there were also contacts with Ferrari itself. Indeed. Marco Piccinini came forward several times with Elio De Angelis. There were talks to join Scuderia Ferrari. Before Michele Alboreto went there, there had been repeated talks between Elio and Scuderia Ferrari. But a concrete agreement was never reached, once for one reason, another time for another.
It's really a shame about this lack of agreement, because it would have been really nice to see Elio De Angelis in red…
Well, in fact there could have been Elio instead of Alboreto. In any case Alboreto was an excellent driver.
Absolutely! Elio De Angelis on Lotus and Michele Alboreto on Ferrari leading the Formula 1 world championship standings, after those first four races of 1985!
After the first four races, Elio first, Alboreto second, then at a certain point, from the Canadian Grand Prix, Michele overtook Elio in the standings. Just think that in the Canadian Grand Prix, Elio took pole position and Lotus gave him, for the race, the engine that Senna had used in the Detroit Grand Prix, an engine that started already exhausted! Senna had a new engine and Elio was fitted with an already used engine. Let's remember that the engines of the time were very delicate units, they often broke. They were turbo engines that lasted just a grand prix, we knew, given that they were super-fast engines. Add to this that, evidently, Team Lotus also had financial problems, since it did not have unlimited means. So, despite Elio's pole position, they put a new engine in Senna, which then, on top of everything else, had a breakdown. Then, Senna broke the engine. And Elio did the entire race with an exhausted engine. He lasted the first 10 laps, 15 laps in the lead, then the engine, already very worn, couldn't take it anymore…
How did Elio experience this situation that was so adverse, so unfavorable to him?
Elio experienced this situation badly. Because he felt betrayed. Peter Warr knew him, so Elio didn't expect anything good from him. But he didn't expect it from Gerard Ducarouge, who he thought was a friend of his. Elio could boast some merits towards Ducarouge, because Ducarouge was, at a certain point, out of the Circus. He was brought back to Formula 1 by my brother, moreover to a prestigious team, such as the glorious Team Lotus. Instead, in defiance of the merits and recognition that Team Lotus should have owed him, Ducarouge played the same game as Peter Warr. Already at the French Grand Prix, at Paul Ricard, the Team did not allow Elio De Angelis to participate in practice on Friday. Only Senna tried. In fact, my brother was only allowed to compete in the official trials. From that moment he had confirmation of what Lotus' policy was that year.
He was very dejected by this treatment. Very dejected because Elio believed a lot in human relationships, in friendship, of which he also felt proud. He remained at Lotus, despite Frank Williams offering him a contract for two years in a row. Elio made a very serious mistake: twice, in 1984 and 1985, with equal economic conditions, my brother, as a matter of pride, as he felt he was carrying the Lotus flag, remained with Chapman's team. And although his friend Colin had passed away, he said to himself: "No, I'm a loyal person, I want to stay at Lotus, because I want to win the world championship with Lotus!".
Instead, there was this sensational turnaround by Lotus in 1985. Elio suffered a lot from this attitude, even morally. This, for him, was truly a great disappointment.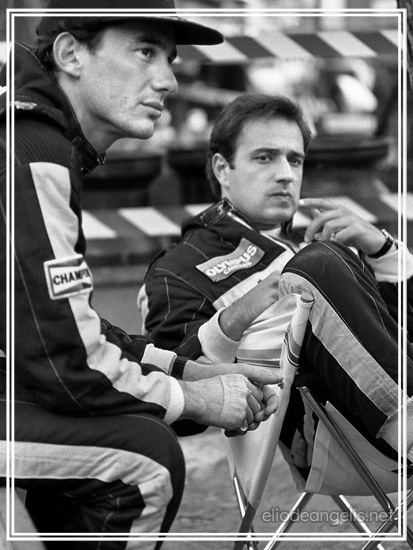 Was this all a Peter Warr thing, or was it also orchestrated by Ayrton Senna himself?
My opinion, although, of course, I still feel closely involved in the matter today, is that Senna was perfectly aware of this Lotus game. Of course, you can't blame him, from this point of view, because he really played along. Senna was perfectly aware of these decisions in his favor. What I accuse Senna is of not having been clear, that's all. It was a little too subtle, because he never missed an opportunity to say that he, Senna, was the second driver of the team, and that Elio De Angelis was the first driver. Ayrton was well aware that, having brought all the money from the Banco do Brasil, having established very close relationships with Peter Warr, he knew well that things were not as he claimed. Formally the first guide was Elio, but, in reality, it was Senna himself instead!
So, Ayrton Senna boasted this thing: that despite being second driver of Team Lotus, he had managed, only thanks to his extreme skill as a driver, to be faster than the first driver Elio De Angelis, practically?
Many times, he didn't even need to say it, but he made it clear. In fact, he had to show off. That was the team's game that year. Since Team Lotus was aware of not having a car to be able to win the world championship, because unfortunately the Renault engine had a lot of horsepower, so much so that Senna even took 7 pole positions that year, while Elio only had one or two, I remember, maybe even just one, in Canada, but, in the race, the engine wasn't that competitive. So, at Lotus, they had made a strategic choice: they had to highlight Senna's qualities.
So, what did they often do? Let's take the Imola Grand Prix. On that occasion Ayrton Senna was angry, at least he pretended to be, I don't know, because Lotus gave Elio the new Renault engine. It was an experimental engine, just built by Renault itself, which consumed a little less than the other one, even if it was less powerful. They chose to give it to Elio, despite Senna's real or presumed complaints, Elio on that occasion merely acted as a tester for Renault. He, who should have been the first guide of the Team! The new engine, in fact, did not guarantee any reliability, but Elio won that Grand Prix! Senna, for his part, decided to go with maximum boost knowing he wouldn't arrive, because, when he left for the Grand Prix, he knew he would run out of petrol, as the Renault engine in its previous version was well tested, but much thirstier compared to the regulations of the time, which were very challenging in terms of fuel consumption.
Senna started in the lead but knew he couldn't finish the race. But, as expected, with 3 and a half laps to go, he ran out of fuel. But Senna made a great impression, proving that he was faster than De Angelis. Of course: with 100 horsepower more than Elio's engine, it wasn't difficult…
It's a shame, on that occasion, not to have been able to celebrate Elio's victory on the circuit, where we were present, because the communication took place only after Prost's disqualification, when he had already embarked on the journey home…
Senna, on that occasion too, was banking everything on pole position. He, I repeat, took 7 pole positions that year. Ayrton was betting everything on that lap, because he knew that he could never win any grand prix, with that engine and that formula which penalized its excessive fuel consumption. Ayrton won the Portuguese Grand Prix. But under the water it was a completely different story. That Grand Prix Elio came fourth because he had a flat tire. And this happened to him another 6 times during the 1985 championship. It was not a common thing for him to repeat it so often.
It was probably some defective rim…
They were not natural facts.
Are you saying that these were events orchestrated by Lotus, that they were part of the strategy we were talking about earlier?
Yes, so much so that my brother said to his friend Luis Ruzzi, from a certain Grand Prix onwards, after this fact had already happened to him two or three times, and it had never happened to him so many times in the previous championships, Elio said to his friend Luis to please guard his car. Nothing was discovered, but Elio ran half the championship with this terrible doubt. Elio had two guiding lights in his life: one was Jim Clark, the other was Niki Lauda. He greatly admired Niki Lauda; in fact, he demonstrated it with the style with which he has always competed in Formula 1. Style with which he demonstrated that speed does not require incorrectness. While, however, there were, and there still are pilots today, who believe that the two things go together. One of these, for example, was Senna. His ability, his speed, his determination is unquestionable. But his serious misconduct is also indisputable.
Even towards Elio?
Even towards Elio.
After all, Roberto, in Formula 1 we have to admit that we have often seen people emerge who have very few scruples…
As far as I know, what happened in Monte Carlo in 1985, when Senna took pole position in the Lotus 97T, had never happened in Formula 1. Those were the days when there were qualifying tyres that lasted just one lap. Well Senna, after he had set the best time, returned to the pits, changed the tyres, put on race tyres, and entered the track to stop the others. In Monte Carlo it is easy to stop others.
He wasn't the only one. It seems to me that then, in the following years, this behavior was emulated…
Well yes. Schumacher also sometimes exceeded. This was borderline behavior. Elio, on the other hand, I must say that he had a very different style. He was never unfair, because he believed, and in my opinion rightly so, that if you have the chance to win, you will win, if you don't make big mistakes. If the machine doesn't let you win, you won't win. Furthermore, Senna did incredible zigzags not to let his opponents pass. Among other things, with the current regulations, which did not exist then, today he would not have been able to do all the things that he did then. Senna was used to changing direction several times.
Senna had disagreements with Alboreto and not just with him…
He had disagreements with everyone. Not with my brother, because my brother was a quiet guy, unlikely to argue with anyone. But he argued with Piquet, he argued with Prost, he argued with Alboreto, he argued with Mansell, he argued with everyone!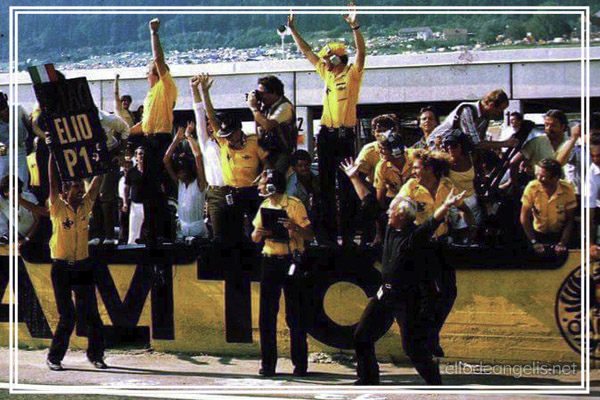 He also had something to say with Schumacher, on that famous occasion of the lecture at Magny Cours in 1992…
I don't remember that episode now because then, for a long period, we no longer followed Formula 1 for obvious reasons. But, in short, Senna was a very strong driver with excessive determination, which went beyond necessity and sporting behavior. Sportsmanship that always had to be kept in mind. Incredibly then, Elio and Ayrton were united by two great misfortunes, this great misfortune of having lost their lives, both due to a technical accident.
I wanted to ask you: how did things go in 1982 in Austria? Were you there?
I wasn't there, I was at the seaside. We followed the race from a beach house that was lent to us, because we couldn't see the television from our house. So, we were loaned a house where we could watch television and we moved, the whole family, to this other apartment. It was an incredible joy, because, finally, after three years of great difficulties, of waiting, there was that very emotional victory. Elio had started seventh. Turbo engines were super favorites on that circuit. There was a bit of luck, because all 6 turbo cars broke down and Elio was the first of the competitors with a naturally aspirated engine. Rosberg, who started sixth, made an immediate mistake on the first lap, where he lost several seconds. It was the year in which Rosberg won the world championship. Rosberg had a better car than Elio. In fact, there was a stretch of the race in which Rosberg gained about half a second per lap from Elio.
Added to this was the fact that, on the last lap, Elio made a mistake in shifting. On the straight after the chicane, Elio made a mistake when shifting from fourth to fifth and this allowed Keke Rosberg to close in, going from 2 seconds behind to 1 second. Elio did the whole lap with Rosberg behind him who absolutely wanted to pass, thanks to a Williams clearly superior to the Lotus, but Elio was good at not getting upset and managing to keep him behind. That's how they arrived at the finish line paired. He was very emotional. My brother was beaming because, finally, he had managed to win his first grand prix. He had been waiting for this moment for a long time! But then, unfortunately, the car on the other circuits, which had different characteristics, was not as fast. He made a few other interesting placings (he came fourth three times, in Belgium, Canada and England ed.). Subsequently, in 1983, there was the advent of the turbo engine supplied by Renault. With a completely wrong machine from the designer Martin Oglivie, who collaborated with Chapman himself. The Lotus 93T was a big, heavy car, my brother nicknamed it "the cow". "The cow", as it was a big car, which rolled on bends. Elio called it "cow", precisely because of its heavy attitude, it swayed in the curves! It was the failure of that car that then led my brother to look for technical alternatives: he himself, I repeat, was interested in hiring Gérard Ducarouge into the Lotus technical staff.
How was the contact between you? Were you more the ones following him or him coming home often?
He always had some of us at the Grands Prix, either me, or my younger brother, Andrea, or my father, in any case some of us were always there. Then there was his friend Luis Ruzzi who followed him in all the grand prix.
Elio was therefore keen to always have some of you close to him, on the various trips…
Well, we talked to each other often, because, you know, I was closest to him in age: we are only a year and three months apart, we grew up together, then we raced go-karts together, we were very close. It can be said that Elio seemed to be driving in the car alone, but in reality, it was as if there were always 3 or 4 of us inside his car! We always exchanged opinions, I often went to see him on the circuit, to check from the outside how the car was behaving, I also gave Elio some information about him and the others. On his times and those of others. Then he explained to us the difficulties in setting up the car… It was always a very direct experience of testing and racing. In any case, Elio was always very keen to return to Rome, home, as soon as his commitments allowed it.
Elio also had the opportunity to learn to play the piano…
It's a passion that Elio has had since he was a boy, he especially liked playing his own music. He directly composed his music himself. Elio was almost self-taught, because he only studied classical piano for a few years as a child, then, at a certain point, he got tired of playing classical piano and started playing light music and above all composing. There are now several videos of Elio playing on the internet. Elio De Angelis also played during the famous strike in South Africa in 1982, where all the drivers had gathered in a shed to demonstrate against the federation and Balestre, its president. There was a piano and my brother started playing. He also played on several other public occasions. He was asked to play several times in Germany, where he was often invited, as Elio was engaged to a German girl, Ute. She was a beautiful, very cute girl, with whom we are still in contact. We talk to Ute, we wish each other well, she is part of the family. In Germany Elio was very famous, perhaps more so in Germany than in Italy, because in Italy, as you know, Ferrari was a bit dominant, from the point of view of public interest. The Italian drivers came second. Instead, Elio had a great reputation in Germany and was often invited to festivals and presentations, where, at times, he was made to play the piano.
Mr. De Angelis, do you feel like talking about the fatal accident at Paul Ricard?
Yes. Elio went to Paul Ricard immediately after the 1986 Monte Carlo Grand Prix, the year in which he moved to Brabham, with the famous BT55, known as "the sole". That Brabham was an undriveable, absurd car. Elio went to Brabham, knowing he was going to a leading team, where he could win the world championship, given that the situation at Lotus had changed to his detriment. An agreement was made with Ecclestone, with a contract as Brabham's first driver for 1986. Elio really hoped to go on to win the world championship, because Brabham had always been a winning team. Unfortunately, however, that year Gordon Murray invented a revolutionary machine, which however turned out to be completely wrong. The Brabham BT55 was not only a bad car, but also a dangerous one. My brother Elio immediately understood how dangerous the car could be and he already told me when he saw it at the presentation. And Elio reiterated this to me not only during the presentation, but also after the first test he did on the track, I believe in Snetterton, England. He said, "This is a dangerous machine!" The car, in fact, had anomalous reactions on the road, a wrong car. It was a very long car, to allow the BMW engine to be installed sideways. Furthermore, it was a very low car designed to lower the center of gravity as much as possible and to have very efficient aerodynamics.
Gordon Murray had suggested positioning the 4-cylinder BMW engine, which had vertical cylinders, lying on its side, crosswise. However, this required a decisive technique to lengthen the machine, which resulted in a very long wheelbase, where the weights were poorly distributed. Weight distribution was, and is, one of the fundamental elements for a machine to work well. But on the 'Sogliola' they were badly distributed, and the car wouldn't go, not even when kicked!
Among other things, it had problems with the engine which did not perform adequately, because was placed sideways, no matter how much they adapted it, making modifications directly to the BMW, to make it work correctly, even at an angle. But to no avail: it didn't perform as well as it should have. So, the engine in an unnatural position, but above all chassis deficiencies, made the BT55 the wrong car and Elio told me it was a dangerous car. This is because it had some unexpected reactions.
It tended to go off course, suddenly losing grip. So much so that Elio told me: "I can make any modification to the car, I can even turn it completely upside down, but whatever I do, the car always does the exact same lap time!
It was practically a lost game…
During that Monaco Grand Prix, where he had, among other things, an engine that didn't work well, Elio qualified last on the grid. The BMW engine didn't want to know about it, it had a technical problem that they couldn't resolve, so much so that in the race Elio suffered, in last position, separated from the group. Immediately after the Monaco GP, tests were scheduled to be organized for Pirelli at Paul Ricard, just three days after Monte Carlo. After that race Elio was very dejected. He was so dejected that I remember a long conversation with him. He was truly disheartened, disappointed by how it had gone in 1985, forced to leave his Lotus, and now, when he was aiming for the 1986 world championship with a team that had the potential to win it, he realized that it was instead a wasted year, with a completely wrong car and this was very demoralizing to him. Elio, in that conversation with me, was very, very demoralized, so much so that he even considered, among other hypotheses, abandoning Formula 1. I told him that he could have made any choice: we as a family would have supported him in every way… Elio shared a lot with us about his choices, his decisions.
After the Monte Carlo Grand Prix, he was truly dejected. And then, to cheer him up a little, I told him that, if he went to test at Paul Ricard, I would accompany him, to keep him up morally, to take split times, for him and those of the other drivers. Riccardo Patrese, for Brabham, was supposed to participate in those tests, but Elio asked him if he could participate, to try to solve some of the numerous problems his Brabham BT55 had. Riccardo agreed.
Then what happened, happened. I was there.
Sadly, my brother could have been saved. He was not saved because the circuit marshals did not have fireproof suits, they wore shorts and had small fire extinguishers so they could not intervene effectively to put out the fire that had broken out. Unfortunately, the bad luck was that, at a certain point, my brother left to do some laps with more than three quarters of a tank full of fuel, to check the behavior of the car with the weight. Unfortunately, the rear wing came off in the fastest corner of the circuit. With a full tank of fuel, the fire was inevitable, and the stewards were not equipped to be able to put out the fire. Otherwise, my brother would have been saved. If only they had put out the fire. After my brother's accident, from there the federation decided that, even for private tests, it was necessary to maintain the safety standards expected for the Grand Prix. Furthermore, the following year the Turbo engine was abolished because these engines had far too much power: in tests they reached over 1000 horsepower. 
Elio De Angelis, therefore, left us at that moment. I agree with you that, even today, Elio is a driver remembered less than he deserves… This could be an opportunity to talk about Elio again and to invite those in charge to remember him, as would be fitting for the champion he was, and still is!
I must say that there have been many journalists who had known him and respected him for who he was, as a driver and as a man. Over time, they have created articles to remember him, I must say without any intervention on our part as a family, because for many years we were completely eclipsed by the pain, due to the lack of Elio from this world.
Subsequently, 3 years ago, we became friends with Ludovico Scarfiotti's son, who we already knew as kids. Scarfiotti proposed that I organize a memorial, which he had already started to do two years earlier to remember his father. That year he proposed I do it to remember Elio. And so, two years ago we organized this Elio De Angelis Memorial together in the Marche, the area of origin of the driver Ludovico Scarfiotti. It was a wonderful event, where I managed to get Elio's Lotus, both the 88B, which he never raced, and the 91 with which he won the Austrian Grand Prix. We managed to get it to go to the seafront, on the Adriatica. I was driving the pace car, in front, which was Elio's Porsche 928S, which I still own, I was with my son Luca, in the back we had the Lotus Formula 1, the 88B, driven by my friend Emanuele Pirro. Who raced go karts with us at the time. Then there was Beppe Gabbiani who drove Elio's Ralt RT1. I had Elio's two Lotuses and two Formula 3 cars brought.
I'm happy to hear you remember this event! Do you think you can do it again?
Well, that was a bit unique. There was no further talk of repeating this event, which occurred in Potenza Picena. Last year, my friend Andrea Lignani, in the organization of an event that took place in Imola, proposed a memory of Elio in a press conference. On that occasion there was a vintage Formula 1 race. I promoted an award in honor of Elio, I presented a plaque, a work of art to the winner of the historic Formula 1 race. However, I have in mind to organize other things.
There had been a farewell proposal, a beautiful idea, in my opinion, but we were unable to realize it, with our friend Lino Ceccarelli. I would have liked to do a De Angelis Trophy, but I will! I will do it! I would have liked it, I thought it would have been nice to have some patronage from the A.C.I., but it wasn't possible for probably political reasons. Because it seems that the international federation was not in favor of it, as they claimed that doing it for one driver did not respect the other missing drivers.
In which category would you consider proposing and awarding the De Angelis Trophy?
In Formula 1. I wanted to do it with the patronage of A.C.I., so that, in the end, the Elio De Angelis Trophy could be awarded at the awards ceremony of the Italian Grand Prix in Monza. This thing fell through due to non-adhesion of the international federation and, above all, of the A.C.I. This does not mean that the matter cannot be organized privately.
Of course, organizing awards ceremonies in Formula 1 is always very complicated.
We wanted the prize-winning driver to come to the A.C.I. area to receive his prize, live on television. 
Who should the award be given to? To the most combative driver?
We would have awarded the prize to the driver who had achieved the maximum score according to certain criteria, it did not necessarily have to be the one who won the championship. There were criteria: correctness, speed, result, etc. There were several parameters. I was very keen that one of the fundamental parameters was the correctness of the driver.
The criterion, the guideline of the award had to be the combination: speed and correctness. This is something I would like to do, not only to remember Elio, but to remember all the Italian drivers. Which instead are not remembered! We have had many great Italian drivers, both world champions and non-world champions.
The Italian drivers are remembered little, because, as usual, we often get lost in talking, and in badmouthing many times, only about Ferrari, which, naturally, engulfs the public's emotions and interest.
For charity! It's right to talk about Ferrari because it has now become a myth, but we can't forget about the drivers, because cars don't work without drivers!
Exactly. Absolutely. Italian drivers who made history…
And who, many times, too many times, have left us…
We remember Elio and admire him precisely for being a good person, a correct, transparent person. It doesn't care if in Formula 1 those who play subterfuge always win. Life is not made, it must not be made up of these games, these conspiracy theories, but instead it is beautiful to follow the example of people, of champions like Elio.
Unfortunately, Formula 1 is a spectacle. It has become more and more of a spectacle. So, the Villeneuve of the situation, the one who did the biggest crazy things, became more important, perhaps, than a more concrete, more correct driver who certainly achieved better results. Because Villeneuve was once outside and once inside the circuit. He broke more cars at Ferrari than anyone else! But this has become a bit of the law of this sport which is almost more of a spectacle than a sport. So, if the show also involves smashing cars, going off track, that's fine! Elio had another idea regarding this sport: he wanted to get as far ahead as possible at the end of the Grand Prix.
This without spreading your elbows too much, trying to always be correct.
Yes, as much as possible. When he could, he tried to fight, but always within the limits of fairness! There was a GP, the 1985 Portuguese GP with Lotus, Senna won, where Elio was second. And he was second for half a Grand Prix. Behind Elio was Prost, who wanted to overtake him at all costs. Elio will have made 15 laps on the inside of the straight to prevent the professor from overtaking him. At a certain point Prost turned on the straight, on a puddle of water. Without managing to pass Elio, even though he was faster. This is to say that in any case Elio ran, he was fast, he looked after him on the track, but always within the limits of correctness. 
Correctness that has always distinguished him, that characteristic for which we loved him and for which we love him even today.
Another thing that Elio thought about, which he cared about a lot, was getting to the end of the Grand Prix. He believed, rightly in my opinion, that in a two-hour race, if you had a car to stay in front, you were in front. If, however, you had a car that couldn't stay in front, sooner or later they would have overtaken you. Elio was always very careful at the start. If you looked at my brother's starts, although he often gained positions at the start, he never tangled up with anyone at the start, never!
On some occasions, he perhaps preferred to lose two or three positions, but emerge unscathed from the first corner. How many drivers behave like this today? There are important drivers, without naming names, who aspire to win the world championship, given that they drive an important car, who, sometimes, pile up at the first corner. This is not acceptable for a top-level driver who wants to aim for the world championship! Better to lose three positions!
So: I understand Monte Carlo is unique, where it is essential to get a good start, because overtaking is extremely difficult; you can stay behind for the whole race and you won't overtake, even if you are faster. But this only applies to Monte Carlo. In all the other grand prix, if you are faster, sooner or later, you pass! And it's not worth losing the race to regain a position. Or don't miss one, or two, or three at the start and risk having an accident.
Elio De Angelis also had these qualities of great lucidity, as well as speed and correctness…
He behaved like this by choice. This is why Elio greatly admired Jim Clark and Niki Lauda. Because he considered them very fast drivers but correct and very consistent. They were calculators who knew up to what point to risk and what the limit of risk was, beyond which the risk became irrational.
And so, it wasn't worth it…
It wasn't worth it…
This is Roberto De Angelis. Ambassador, in this world, of his brother Elio, who, who knows how, who knows why, would have liked to win the world championship on this earth. Earth that did not belong to him, but which he evidently would have wanted better. By winning the F.1 world championship he would have demonstrated that you don't necessarily need to be an assh*le or a son of a good woman to be able to emerge, to be able to excel. He would have demonstrated that he too, Elio Degli Angeli, their representative in this world, could have won, beaten everyone in a fair, clear manner, with fairness and honesty. Only with the purity of speed. I'm sure that then he would have told us, he would have pointed it out to us. Which are loyalty, integrity, correctness, honesty, the fundamental qualities necessary for human beings to exist, coexist, to smile. We strongly wanted Elio Degli Angeli to win on this earth. He dressed for a long time in black, as if to accentuate the contrast with his soul, with his heart. He dressed in black so that even the angels would allow him to stay down here and try, try hard to make this world better than it really is.
Then, maybe, he understood. That there would be no remedy. There was no hope. In fact, he dressed in white in 1986. It was the signal. That the angels had called him back. That they had invited him not to suffer anymore. And to go and win the races and the championships up there.
*Potete trovare l'intervista in italiano sul sito Automoto.it: Prima Parte | Seconda parte
© 2020 Automoto.it • By Beppe Magni • Published for entertainment and educational purposes, no copyright infringement is intended