Translated by
this website
With this Lotus I will be ahead of the Ferraris
The Renault engine is a bomb, the chassis is outstanding, and we are already faster than Prost. But I'm concerned about safety: without miniskirts, you risk too much
LE CAMP – I'm angry. Excuse me if I start my conversation with you Autosprint readers like this, but it's the truth.
You may ask me: but how, after beating Prost's time with Renault by 35 cents in the first outing at Ricard, are you angry? Yes, but not for that. The good time achieved made me and the team happy (who are still in awe of Chapman's death), but it's the safety that scares me!
Let me explain right away: with a turbo engine you enter Signes almost in full speed, like when you had miniskirts. At that time, you were glued to the ground, but today the stability is precarious, given only by four stems which are the shock absorbers and by four tires. It's very dangerous!
After this first taste with the Renault engine, I realized how dangerous the cars will be next year. At Signes I'm 25/30km/h faster than a Cosworth, and I'm almost in full speed as last year with the naturally aspirated engine. Only that I'm faster with the turbo by 30 kmh! It's a terrifyingly dangerous thing, the balance is held only by the tires and the front and rear wings, whereas before it was distributed throughout the car. Now we'll see who will be right: those who said that cars with miniskirts were too dangerous, or drivers who think like me. I just hope it's not too "expensive" to prove who's right. I would let someone who, behind a desk, made the rules try my machine: they would realize what it means!
I've always been in favor of miniskirts. I thought it was dangerous without it, but not to this extent. I believed a little less because I was told the speed is lower. In fact we managed to get the opposite, the cars are like on ice, four skates which are the tires. On the short circuit I did 276 km/h, you tell me when we turn on the long circuit what will happen. I'm 9 kmh faster than the official Renault, it's scary, I repeat. It's not that I'm scared, I'd like to make it clear, otherwise I wouldn't be doing this job. But now we are running an extra risk that was not there before. What need did the people behind the desks have to make us take this extra risk? They don't care, they don't get there at Signes at 300km/h, they're in the pits showing off while we risk our lives for their decisions.
But now enough with this outburst that maybe is boring you. Let's talk about my Lotus 93 turbo, Chapman's latest creation. The engine is a bomb, we didn't test it very much, but I feel that it is an engine with as much power as I have ever driven. Now I understand why last year those with turbo engines passed me on the straight and I seemed to be stationary: 140 HP more make themselves felt, and how.
But the thing that Chapman immediately guessed was the chassis. An exceptional frame, stiff, easy to drive: even after just a day and a half of testing it didn't give us any problems, proving to be already 90% ready. We're still in shock after Chapman's death, I thought, what's going to happen now? Today, after having done a better time than Prost's official Renault and having the third fastest time overall in these tests carried out during the winter, we are all more confident. "The old man" left us (for a change) a great, great car. He promised me by signing the contract with Larrousse, and he has always kept his promises.
Probably next year, 1984, will be crucial for us. Then Colin will no longer be there with his genius and his suggestions, and if we don't find another one, I'm not saying worthy of him because it's impossible, but one who can do his job, work at his best, we may have big problems. No one has yet fully realized that he is not there. At least in part there are those who reject the idea, we still think he is there in his office, also because it is closed, and many expect that sooner or later that door will open, and he will come and give us the solution to some problem we have to solve. We will begin to feel the loss in the middle of the season, when there will be the first difficulties with the set-up. After all, this 93T was his latest creation, he had already developed it a bit and had already given the general ideas regarding development. Further on, I don't know… we'll have to see, we'll have to evaluate everything.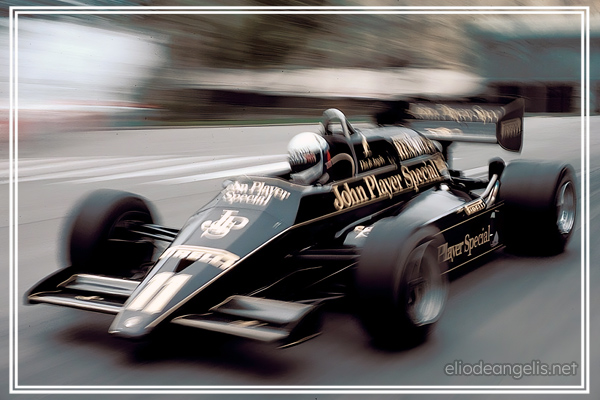 As far as the car's performance is concerned, I'm satisfied, even if Alfa Romeo has made some great times. However, we need to see how they made them and under what conditions. Our car is the first time we've tried it, truly the first. The first day we checked if everything was running as it should, that the suspension and wheels were well attached. With the qualifying tires and the turbo pressure lower than what Renault had recommended, I did 1'05″02. With the second set of tires from Pirelli I could have done better and approached the time of Arnoux's Ferrari. the petrol pump let us down. With the pressure at 30.05 the Renault crews were also happy, because it gives them confidence in the future of the pairing as well.
The handling of the car and performance in general are satisfactory, the 93T is competitive, we have oversized parts such as the large brakes that weigh 6 kg more than the usual ones we used. We have done everything so that the car resists, now we will do the "slimming" work, and before Brazil we will test the lightened car in a circuit in England. A final word for the Pirelli tires. Engineer Mezzanotte was fantastic, he gave us incredible tire development in a short time that I didn't think was possible. We have exceptional time tires, while although we already have very good race tires, together with Pirelli I would like to improve them a bit and engineer Mezzanotte told me that it is very possible, without any problems.
 I had no problems adapting to the turbo engine. This one from Renault has no "holes", as they say, low down, it picks up like an aspirated one, with the advantage that when you reach 8500 rpm, and the turbo enters torque you make an incredible leap forward. There is so much torque that you don't even need to change. The corners where I used to put second and then third with the Cosworth, now I do them all in third. There is so much power available that it feels like overdrive. I didn't have to change my driving style from naturally aspirated to turbo, it's more difficult to drive fast, but it's more fun to drive the Lotus turbo in mixed. It lacks some engine braking, but it doesn't bother me. I drive like with the Cosworth, our car pitches less while with the Cosworth you had engine braking and therefore the pitching was disturbing. With the turbo everything is smoother and runs better.
Given the circumstances, I don't want to promise to win the world title in 1983, but I hope I can always qualify well, and I am confident that we can stay ahead of Ferrari.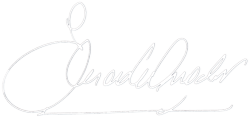 Bonus: Lotus 93/ The presentation in London
Warr confirmed that initially only Elio will have the turbo. Colin's widow and children were there too.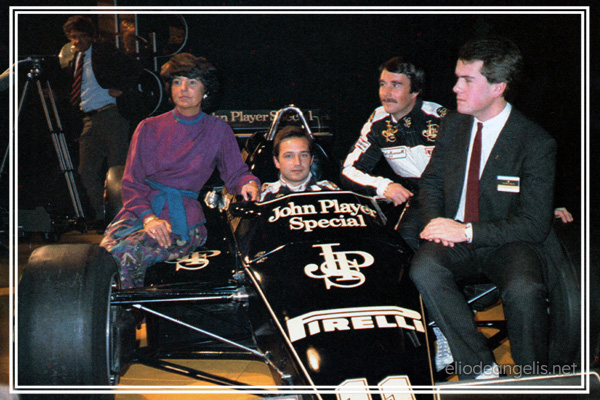 LONDON – When the scene opened and the shiny black Lotus 93T appeared with the smiling De Angelis and Mansell behind it, everyone's thoughts went to him, to Colin Chapman who ended his creative genius with this work. Also present were his wife Hazel and their son, a thunderous applause greeted the Lotus 93T which for the first time features a turbo engine (that of Renault). Frank Boug, a well-known British TV presenter, did the honours. Around a table, in addition to the TV presenter, were the two drivers De Angelis and Mansell, Peter Warr manager of Lotus, Gerard Larrousse general manager of Renault, Mr. Sierra and Moro for Pirelli, Martin responsible for Renault engines, John Glover of Champion, Mr. A. N. Other for ELF, John Bisignano for Valvoline and representing generous sponsor JPS, Mr. Peter Dyke. A film showed us the various moments of the construction of the Lotus 93T, a handshake between Colin Chapman and Gerard Larrousse when they signed the contract, then the various moments of the birth of the 93T up to the first laps made by De Angelis, for photographic needs, on Lotus' private track in Norwich. The logo with which the new Lotus then appeared prominently on the screen will always be on the circuits: they are the letters A.C.B.C., which stand for Antony Colin Bruce Chapman, the name of its creator.
A friendly "chat" of those presents with the "TV man", then the black Lotus was targeted by TV and photographers. At one point Madame Hazel, Colin's widow, also took the stage and posed with De Angelis in the cockpit of the car and with Mansell standing next to them, then even the Chapman children, although they didn't want to, were photographed next to the last creature of their brilliant father. Clive Chapman, Jane, and Sarah then toasted champagne with the whole team.
We asked Larrousse and Peter Warr how much Lotus pays for Renault turbo engines. Both told us: "Lotus pays an X figure, which we do not wish to disclose, for engine overhauls and updates, but the latter always remain the property of Renault".
We then asked Warr: how do you feel about this agreement with the French house?
It is a very positive agreement for us and for the French company, we will try to do our best to honor Chapman's memory.
Difficulties after Colin's departure?
Surely, we lack his ideas that spurred us on. Even today we find it hard to get used to the fact that he is no longer there behind the door of his office that is always closed.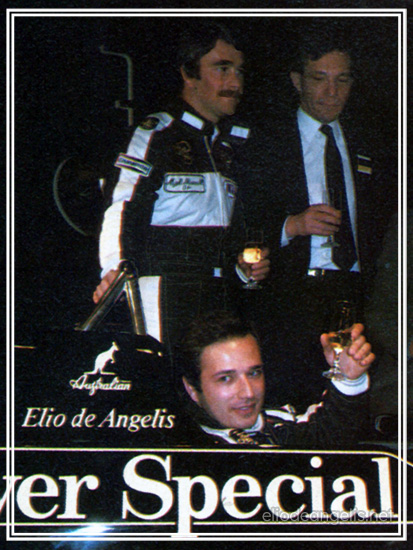 What are the differences between this Lotus and the 91 you raced with last year?
A larger petrol tank, different rear suspension, while we are working on aerodynamics. We installed all the engine components at the suggestion of Renault which already has seven years of experience with this engine in F1.
However, he does not say that in reality the turbos on the side of the engine have been placed lower than Renault wanted them because, according to Chapman, in this way they cool down better and "breathe" fresher air.
Will the team then race with two different engines?
Yes, at least at the beginning of the season. De Angelis, who will be testing at Ricard from tomorrow (Thursday of last week), will start with the turbo, while Mansell will drive the 91 with an aspirated engine. Then in the middle of the season he too will have a 93T.
On this car you followed Renault's ideas, but on the next one?
Next… is a car that Chapman had planned to make towards the end of the year. He had already traced something; we'll see if we can finish the work he started to remember him for the genius he was.
Predictions for 1983?
I would say optimistic, a lot. On the other hand, we saw how Renault went last year: without the bad luck they would have been world champions, we'll try to do the same.
After the conference and the presentation of the car, the black Lotus 93T with the number eleven immediately left for the Paul Ricard circuit. You can read the results of this first approach with the track of Chapman's latest creation elsewhere in the newspaper.
© 1983 Autosprint • Published for entertainment and educational purposes, no copyright infringement is intended